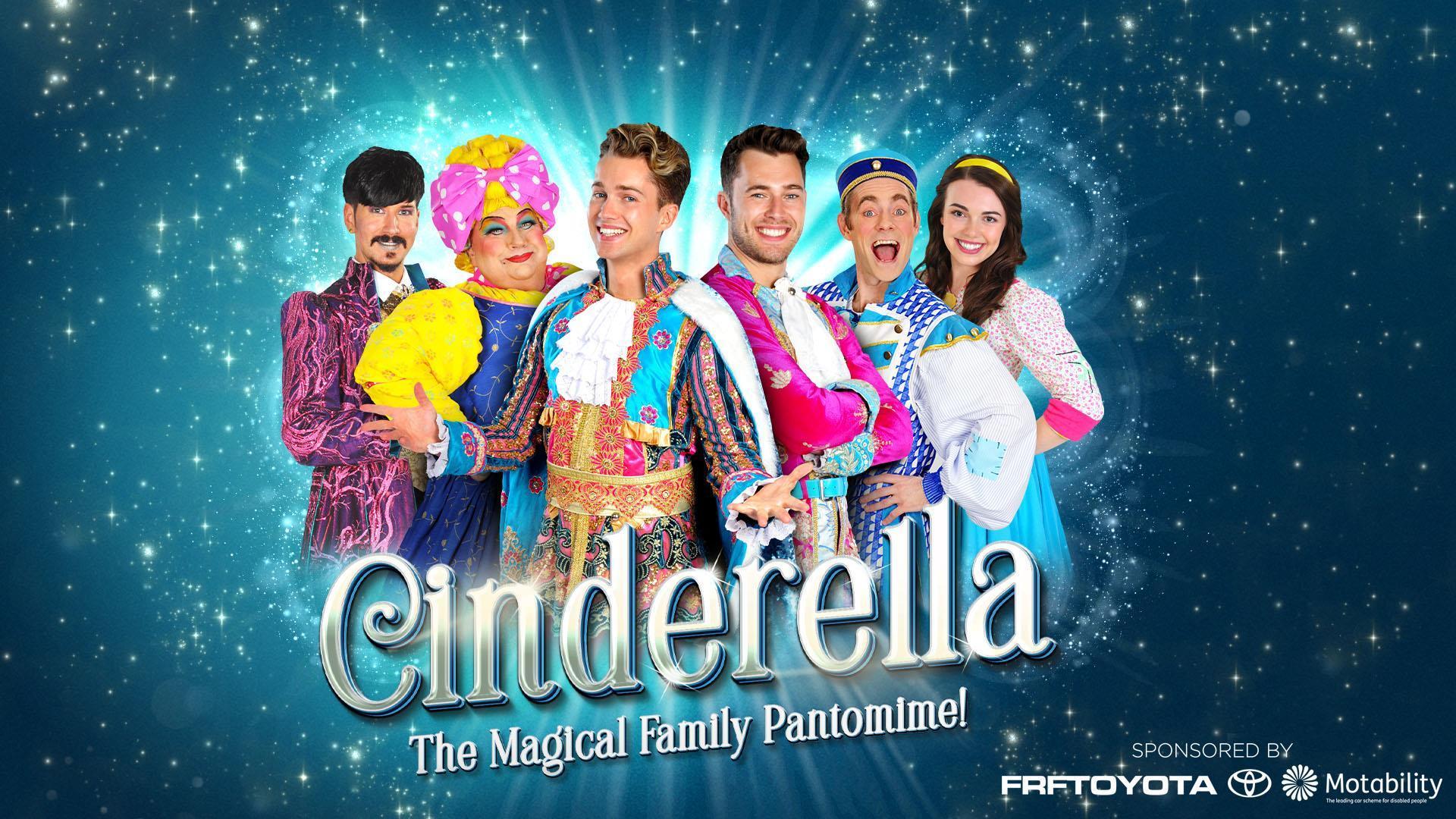 Cinderella
Saturday, 9 December 2023 to Sunday, 7 January 2024
Main Auditorium
View dates and book
You shall go to the ball!

Swansea's award-winning pantomime is back and this year it's everyone's favourite rags to riches tale, Cinderella! The show will star TV favourites and dancing duo AJ & CURTIS PRITCHARD and Swansea panto legends - the hilarious and much loved KEV JOHNS and MATT EDWARDS. They will be joined by local luminary, Stefan Pejic, and Samantha Thomas, a West End star hailing from Llanelli.

Cinderella also features another dazzling, award-winning, digital set and all of the traditional panto elements to make your Christmas sparkle!! This must-see panto is selling fast, so don't be a pumpkin, book early before the clock strikes midnight!
Important info
Times 10:00AM, 1:00PM, 2:00PM, 5:00PM, 7:00PM
Price £17.00 - £36.00
BSL Interpreted performances Thursday 14 Dec 7pm & Friday 15 Dec 2pm
Relaxed performance Wednesday 3 Jan at 2pm
Choose a date
Date of the performance

Saturday, 9 December 2023

Date of the performance

Saturday, 9 December 2023

Date of the performance

Sunday, 10 December 2023

Date of the performance

Sunday, 10 December 2023

Date of the performance

Wednesday, 13 December 2023

Date of the performance

Wednesday, 13 December 2023

Date of the performance

Thursday, 14 December 2023

Date of the performance

Thursday, 14 December 2023

Date of the performance

Friday, 15 December 2023

Date of the performance

Friday, 15 December 2023

Date of the performance

Saturday, 16 December 2023

Date of the performance

Saturday, 16 December 2023

Date of the performance

Saturday, 16 December 2023

Date of the performance

Sunday, 17 December 2023

Date of the performance

Sunday, 17 December 2023

Date of the performance

Wednesday, 20 December 2023

Date of the performance

Wednesday, 20 December 2023

Date of the performance

Thursday, 21 December 2023

Date of the performance

Thursday, 21 December 2023

Date of the performance

Friday, 22 December 2023

Date of the performance

Friday, 22 December 2023

Date of the performance

Saturday, 23 December 2023

Date of the performance

Saturday, 23 December 2023

Date of the performance

Saturday, 23 December 2023

Date of the performance

Sunday, 24 December 2023

Date of the performance

Sunday, 24 December 2023

Date of the performance

Tuesday, 26 December 2023

Date of the performance

Tuesday, 26 December 2023

Date of the performance

Wednesday, 27 December 2023

Date of the performance

Wednesday, 27 December 2023

Date of the performance

Thursday, 28 December 2023

Date of the performance

Thursday, 28 December 2023

Date of the performance

Friday, 29 December 2023

Date of the performance

Friday, 29 December 2023

Date of the performance

Saturday, 30 December 2023

Date of the performance

Saturday, 30 December 2023

Date of the performance

Sunday, 31 December 2023

Date of the performance

Sunday, 31 December 2023

Date of the performance

Wednesday, 3 January 2024

Date of the performance

Wednesday, 3 January 2024

Date of the performance

Thursday, 4 January 2024

Date of the performance

Thursday, 4 January 2024

Date of the performance

Friday, 5 January 2024

Date of the performance

Friday, 5 January 2024

Date of the performance

Saturday, 6 January 2024

Date of the performance

Saturday, 6 January 2024

Date of the performance

Sunday, 7 January 2024

Date of the performance

Sunday, 7 January 2024